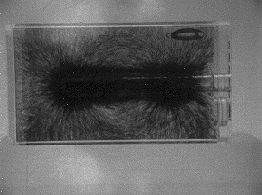 J5-03: MAGNETIC FIELD OF A BAR MAGNET - 3D VERSION
PURPOSE: Three-dimensional field visualization of magnetic field of bar magnet.
DESCRIPTION: A cylindrical bar magnet is inserted into the center of a cube filled with a suspension of magnetic powder. When the device is shaked, mixing the magnetic powder uniformly through the liquid, and the magnet inserted, the powder lines up along field lines, allowing three-dimensional visualization of the field of a bar magnet.
SUGGESTIONS:
REFERENCES: (PIRA unknown.)
EQUIPMENT: Three-dimensional magnetic field visualization gizmo with cylindrical bar magnet.
SETUP TIME: None.
---