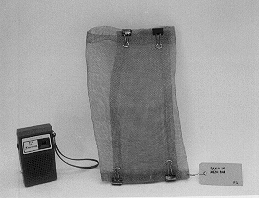 J3-23: FARADAY CAGE - RADIOWAVES
PURPOSE: To demonstrate that radio waves cannot penetrate a Faraday cage.
DESCRIPTION: The radio is tuned to a good station so that everyone can hear. Lowering the screen Faraday cage over the radio stops the radio waves, and the sound of the radio ceases.
SUGGESTIONS:
REFERENCES: (PIRA 5B20.35)
EQUIPMENT: Portable radio, small mesh screen Faraday cage.
SETUP TIME: None.
---