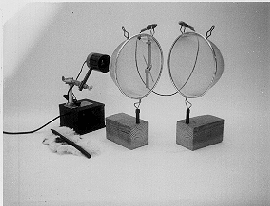 J3-22: FARADAY CAGE - ELECTROSCOPE
PURPOSE: To demonstrate that the electric field within a closed surface is zero.
DESCRIPTION: Charge the two wire strainers, which are connected electrically to the electroscope indicator. With the two meshes separated, the electroscope deflects. When they are placed together, forming a closed sphere, the electroscope deflection is zero, indicating zero potential within the closed cage.
SUGGESTIONS:
REFERENCES: (PIRA 5B20.30)
EQUIPMENT: Double wire strainer Faraday cage with electroscope, charging materials, and projection point source.
SETUP TIME: None.
---