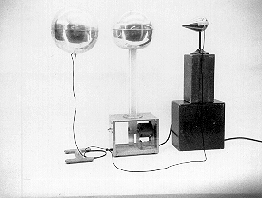 J3-07: VAN DE GRAAFF - DISCHARGE TO VARIOUS RADII
PURPOSE: To demonstrate that for a charged conductor a smaller radius produces a higher electric field.
DESCRIPTION: The Van de Graaff discharges to the ground sphere at the left in the absence of the smaller elliptical conductor at the right. When the grounded elliptical conductor is positioned near the Van de Graaff dome, the end with the smaller radius of curvature discharges the dome with less of a spark, indicating a smaller electric field. Discharge to the larger end is more similar to the ground sphere.
SUGGESTIONS:
REFERENCES: (PIRA unknown.)
EQUIPMENT: Van de Graaff generator with ground sphere, elliptical conductor on platform, ground wires.
SETUP TIME: 5 min.
---