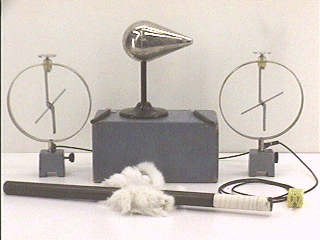 J3-06: ELLIPSOIDAL CONDUCTOR
PURPOSE: To demonstrate that the charge distribution on a conductor depends on the curvature of the surface.
DESCRIPTION: The ellipsoidal conductor is charged, either positive or negative, using a charged rod. Simultaneously touch proof planes to the larger and the smaller ends of the figure, and then to the corresponding electroscope. A few transfers show that there is more charge on the smaller end than on the larger end.
SUGGESTIONS:
REFERENCES: (PIRA unknown.) See Demonstration Reference File.
EQUIPMENT: Ellipsoidal conductor, charging materials, two electroscopes with grounding wires, two proof planes.
SETUP TIME: None.
---