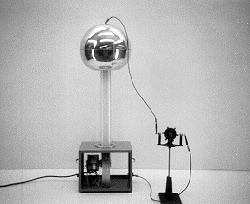 J2-51: ELECTROSTATIC MOTOR
PURPOSE: Application of electrostatic forces.
DESCRIPTION: When the Van de Graaff potential is applied across the terminals of the electrostatic motor as shown in the picture, the rotor of the electrostatic motor spins.
As one of the six metal spheres on the rotor moves past a terminal it is charged by a discharge from the terminal. When it gets to the other side it is pulled toward the terminal, where it is charged to the opposite polarity and gets pushed away from the terminal. The motor can rotate either direction depending on initial conditions.
SUGGESTIONS:
REFERENCES: (PIRA 5A50.50) See Demonstration Reference File.
EQUIPMENT: Van de Graaff generator with electrostatic motor.
SETUP TIME: None.
---