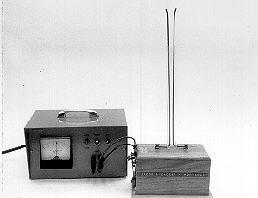 J2-32: JACOB'S LADDER - PORTABLE
PURPOSE: To demonstrate Jacob's ladder.
DESCRIPTION: Ths version of Jacob's ladder works using a 5V spark coil. The discharge travels up a tube, creating an interesting sound which you can ask your students to explain using their vast knowledge of acoustics.
SUGGESTIONS:
REFERENCES: (PIRA unknown.)
EQUIPMENT: Jacob's ladder mounted on spark coil with 5 V power supply.
SETUP TIME: None.
---