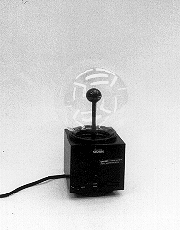 J2-13: PLASMA MACHINE - EYE OF THE STORM
PURPOSE: To demonstrate electrostatic discharge.
DESCRIPTION: This device is a commercial apparatus often used in magic shows or to enhance the look of a laboratory in a science fiction movie. (It is used in the introduction of the X-FILES, for example.) When the machine is turned on a discharge occurs between the inner electrode and the outer glass; placing your hand on the glass draws the discharge but does not create a shock. The spark can also be controlled by ambient sounds.
SUGGESTIONS: See videotape "Light Sculpture of Bill Parker" (5 min) for its "artistic" use.
REFERENCES: (PIRA unknown.) See Demonstration Reference File for further information on how this device actually works.
EQUIPMENT: "Eye of the Storm" plasma machine.
SETUP TIME: None.
---