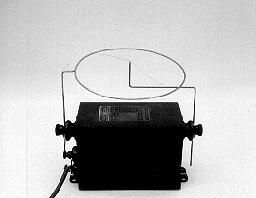 J2-12: FRANKLIN'S WHEEL - AC
PURPOSE: To demonstrate Franklin's wheel in a disturbing way.
DESCRIPTION: This is an AC version of the famous Franklin's wheel which is generally powered by a high-voltage electrostatic generator. The Franklin's wheel is mounted on a 5000 Volt 60 Hz AC transformer. Electrostatic forces between the tip of the rotator and the charges cloud of gas adjacent to the rotator tip provide the driving force. The direction of the current inverts, but the direction of the force does not.
SUGGESTIONS:
REFERENCES: (PIRA unknown.)
EQUIPMENT: Franklin's wheel mounted on 5000 VAC transformer.
SETUP TIME: None.
---