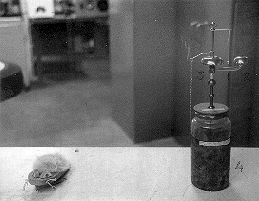 J1-23: ELECTRIC CHIMES
PURPOSE: To demonstrate electrostatic forces.
DESCRIPTION: A small ball is suspended between two bells, which are in turn electrically connected to the two sides of a Leyden jar capacitor. When the capacitor is charged, the ball oscillates between the two bells.
SUGGESTIONS:
REFERENCES: (PIRA 5B10.30)
EQUIPMENT: Electric chime device, Wimshurst machine to charge it.
SETUP TIME: None.
---