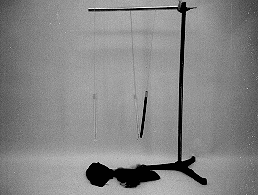 J1-21: ELECTROSTATIC ATTRAC AND REPULS - CHARGED CYLINDERS
PURPOSE: To demonstrate electrostatic attraction and repulsion.
DESCRIPTION: Charge the glass cylinders positive by rubbing with silk, and charge the hard rubber cylinder negative by rubbing with fur. The two positive glass cylinders repel each other, but both are attracted to the negative hard rubber cylinder.
SUGGESTIONS:
REFERENCES: (PIRA 5A20.10)
EQUIPMENT: Stand with two glass test tubes and hard rubber rod on strings, silk, fur.
SETUP TIME: None.
---