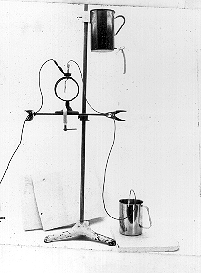 J1-02: TRIBOELECTRICITY - WATER JET IN AIR
PURPOSE: To illustrate triboelectricity.
DESCRIPTION: A water jet falls from a reservoir with a nipple and falls into a receptacle can which is electrically connected to an electroscope. The source reservoir is ungrounded and can be shown to be electrically neutral at the beginning of the experiment. The water stream breaks up as it falls, charging the the water droplets falling into the pan, which can be seen from the electroscope. Charging materials may be used to ascertain the charge on the electroscope, if desired.
SUGGESTIONS:
REFERENCES: (PIRA unavailable.)
EQUIPMENT: Pitcher with nipple, hose, and eyedropper assembly on stand, stainless steel assembly. gold leaf electroscope, ground wire, connecting wire.
SETUP TIME: 10 min.
---