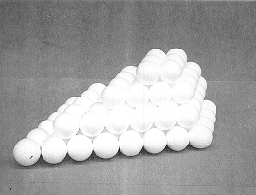 I7-07: CLOSE-PACKED CRYSTALLITE
PURPOSE: To display the low index surfaces of face-centered cubic or hexagonal close-packed crystals.
DESCRIPTION: Each plane is a two-dimensional hexagonal array. By stacking either abab or abcabc one obtains a hexagonal close-packed or face-centered cubic crystal, respectively. The face-centered cubic arrangement, for example, can expose (111),(100) and (110) surfaces simultaneously.
SUGGESTIONS:
REFERENCES: (PIRA unavailable.)
EQUIPMENT: Four planes of glued styrofoam balls.
SETUP TIME: None.
---