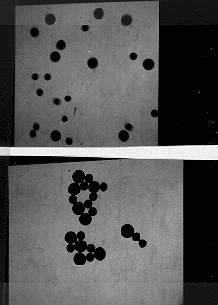 I6-37: MOLECULAR MOTION DEMO - VAN DER WALLS FORCES
PURPOSE: To introduce the concept of attractive force between molecules.
DESCRIPTION: A set of steel balls models the air. The balls are set into motion by vibration of the walls with the device tilted. A weak magnet is placed at one end of the volume. If the velocity of the steel ball molecules is small enough some of the balls will stick to the magnet and to each other, representing condensation.
SUGGESTIONS:
REFERENCES: (PIRA 4D30.00) See Demonstration Reference File for manual.
EQUIPMENT: E.M.E. Molecular Motion Demonstrator with accessories as pictured.
SETUP TIME: None.
---