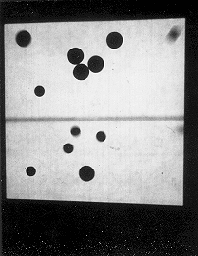 I6-35: MOLECULAR MOTION DEMO - DIFFUSION
PURPOSE: To model gas diffusion.
DESCRIPTION: A set of small balls of varying mass models the air. The balls are set into motion by vibration of the walls with the device tilted. A diffusion barrier with two small slots is positioned in the center of the device with six small balls on one side and six large balls on the other side. The balls will mix, representing diffusion. Differences between smaller and larger balls can be observed, and fluctuations can be discussed.
SUGGESTIONS:
REFERENCES: (PIRA 4D30.00) See Demonstration Reference File for manual.
EQUIPMENT: E.M.E. Molecular Motion Demonstrator with accessories as pictured.
SETUP TIME: None.
---