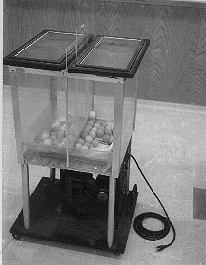 I6-21: GAS DIFFUSION - MODEL
PURPOSE: To model the diffusion of gas molecules through a small hole.
DESCRIPTION: White ping pong balls on one side and colored ping pong balls on the other side of a plastic sheet barrier are agitated by a motor which rotates the bottom of the model. Opening a small hole in the plastic barrier between the two sections allows some of the balls to "diffuse" from one side to the other.
SUGGESTIONS:
REFERENCES: (PIRA 4D50.80) See Demonstration Reference File for paper on gaseous diffusion.
EQUIPMENT: Diffusion model.
SETUP TIME: None.
---