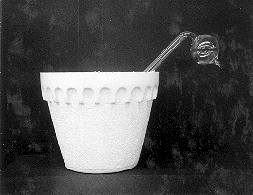 I4-33: CRYOPHORUS
PURPOSE: To illustrate freezing caused by cooling by evaporation.
DESCRIPTION: Insert the lower end of the cryophorus into a liquid nitrogen bath, with the water in the sphere at the upper end. The liquid nitrogen will reduce the pressure inside the tube, causing evaporation of some of the water from the upper sphere. After sufficient cooling during the evaporation process, the remaining water in the upper sphere freezes.
SUGGESTIONS:
REFERENCES: (PIRA 4C31.10)
EQUIPMENT: Cryophorus, styrofoam bucket of liquid nitrogen.
SETUP TIME: None.
---