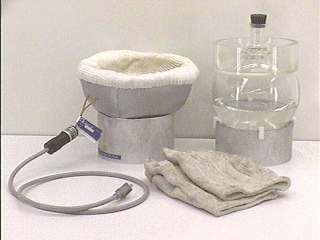 I4-11: BOILING AT REDUCED PRESSURE
PURPOSE: To demonstrate that water boils at a lower temperature under reduced pressure.
DESCRIPTION: Water is boiled in the flask, then heat is removed and the flask is sealed after boiling ceases. Dry ice is packed around the flask, reducing the pressure inside the flask. The boiling immediately resumes.
SUGGESTIONS: Handle with care. Be sure stopper is loose when heating the water.
REFERENCES: (PIRA 4C30.10)
EQUIPMENT: Flask with water, heating device (at left in photo), dry ice with dry ice retainer tube, tubular stand for flask, and gloves.
SETUP TIME: 15 min. (Dry ice must be obtained from Chemistry.)
---