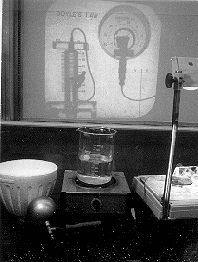 I3-51: CHARLES' LAW - PROJECTION
PURPOSE: To demonstrate Charles' Law.
DESCRIPTION: A hollow sphere filled with air is connected by a tube to a pressure gauge on an overhead projector. Place the sphere in ice water (T=273K), in boiling water (T=373K), and in liquid nitrogen (T=77K), and read the pressure for each. Calculate P/T=constant, Charles' Law.
SUGGESTIONS:
REFERENCES: (PIRA 4E30.10)
EQUIPMENT: Hollow air sphere with tubing, pressure gauge, beaker of boiling water on hot plate, styrofoam bucket of ice water, styrofoam bucket of liquid nitrogen, overhead projector.
SETUP TIME: 10 min.
---