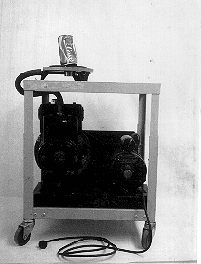 I3-16: COLLAPSE OF CAN - LARGE PUMP
PURPOSE: To demonstrate the forces created by atmospheric air pressure.
DESCRIPTION: Start the mechanical vacuum pump, then place a soda can firmly on the top gasket around the pump opening. In a couple of seconds enough air is pumped out of the can so that the can collapses with a bang, jumping off the pump.
SUGGESTIONS:
REFERENCES: (PIRA 2B30.15)
EQUIPMENT: Vacuum pump with soda cans.
SETUP TIME: None.
---