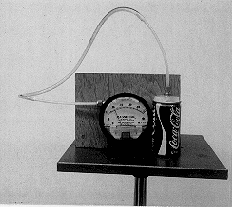 I3-03: GALILEO'S THERMOSCOPE
PURPOSE: To measure very small pressure changes.
DESCRIPTION: Without touching the can, disconnect and reconnect the tubing from the Magnahelic gauge in order to set the gauge pressure to zero. Warming the can by placing your hand on it raises the pressure in the can about half of the full scale. Also try warming the can by breathing on it.
SUGGESTIONS:
REFERENCES: (PIRA unavailable.)
EQUIPMENT: Mounted Magnahelic gauge, tubing and sealed cola can.
SETUP TIME: None.
---