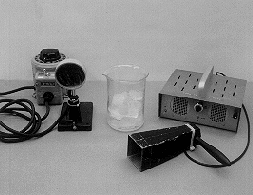 I2-06: THERMOPILE WITH AUDIO OSCILLATOR
PURPOSE: To observe infrared radiation.
DESCRIPTION: The output from a commercial thermopile is connected to an audio oscillator such that the frequency of the oscillator is proportional to the temperature observed: the hotter the object the higher the pitch. Use various sources: ice, boiling water, liquid nitrogen, the floor, people, etc. This is only qualitative; the system is not calibrated.
SUGGESTIONS:
REFERENCES: (PIRA 5E50.10) See Demonstration Reference File for further information, including the circuit for the oscillator. See also Demonstration I2-06: THERMOPILE WITH DVM.
EQUIPMENT: Thermopile with audio oscillator, heat sources.
SETUP TIME: 5 min.
---