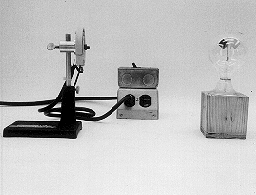 I2-03: CROOKE'S RADIOMETER - ROTATION REVERSAL
PURPOSE: Counterintuitive demonstration of Crookes' radiometer designed to make students understand radiation better.
DESCRIPTION: Heat the Crookes' radiometer with the heater for about one minute at about one foot distance, so that it spins rapidly. When the heater is removed the spinning first ceases then reverses. When the heater is removed, the black side cools faster than the white side. When the temperature of the black side becomes sufficiently below that of the white side the roles are reversed from normal in heating adjacent air, causing more momentum transfer to the white side and rotation in the direction of the black side.
SUGGESTIONS:
REFERENCES: (PIRA 4D20.10) See also Demonstration I2-01: CROOKES' RADIOMETER. See Demonstration Reference File for further information and articles.
EQUIPMENT: Crookes' radiometer with nichrome heater, switch and block.
SETUP TIME: None.
---