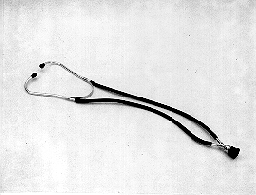 H5-03: STETHOSCOPE
PURPOSE: To hear with a stethoscope, and to experience the time resolution between the two ears.
DESCRIPTION: Listen to a heartbeat or breathing with the stethoscope. Gently tap the surface of the tube as you move your hand back and forth along the tube; the time between when the tap arrives at the two ears creates the effect of the sound appearing to move laterally.
SUGGESTIONS:
REFERENCES: (PIRA 3C10.20)
EQUIPMENT: Stethoscope.
SETUP TIME: None.
---