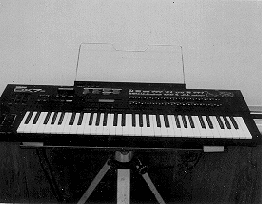 H4-55: YAMAHA DX7S DIGITAL SYNTHESIZER
PURPOSE: To demonstrate features of a modern digital synthesizer.
DESCRIPTION: This device is a modern digital synthesizer. An enormous number of functions and effects can be illustrated using this instrument. Please see Demonstration Reference File for manuals on its operation and features.
SUGGESTIONS: It also makes a nice party piano.
REFERENCES: (PIRA unavailable.) See Demonstration Reference File for complete instruction manual.
EQUIPMENT: Synthesizer with amplifier and loudspeaker, ready to use on rolling cart.
SETUP TIME: None.
---