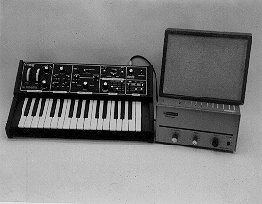 H4-53: MOOG ROGUE SYNTHESIZER
PURPOSE: To illustrate a very simple analog musical synthesizer.
DESCRIPTION: Various functions typical of standard analog synthesizers can be illustrated, including the keyboard, modulation, filtering, noise, envelope generator, etc.
SUGGESTIONS: This device provides a very nice and simple introduction to analog synthesizer functions.
REFERENCES: (PIRA unavailable.) See Demonstration Reference File for instruction book and all sorts of interesting ideas and sound charts.
EQUIPMENT: Moog Rogue synthesizer with amplifier and speaker; oscilloscope on request.
SETUP TIME: 5 min.
---