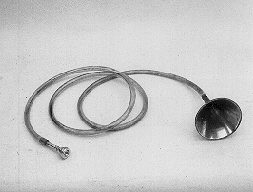 H4-37: FLEXIBLE TRUMPET
PURPOSE: To demonstrate some acoustical features of the trumpet.
DESCRIPTION: Adding a trumpet mouthpiece and a funnel to the opposite ends of a flexible plastic tube creates a "flexible trumpet" which has all of the basic acoustical features of the real thing. The overtones are those of a valveless trumpet; like the trumpet, the fundamental is not good on the device.
SUGGESTIONS:
REFERENCES: (PIRA 3D32.35)
EQUIPMENT: Plastic tube with trumpet mouthpiece and funnel.
SETUP TIME: None.
---