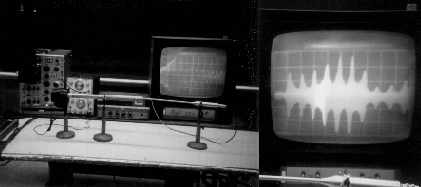 H3-43: RESONANCE CURVES WITH STORAGE SCOPE
PURPOSE: To demonstrate the resonance behavior of a Helmholtz resonator or of open and closed tubes.
DESCRIPTION: A tube or resonator is excited by an oscillator driving a small loudspeaker. The sound is picked up by a sound probe adjacent to the end of the tube, and displayed on the oscilloscope. Resonances are clearly observable on the oscilloscope. Both open and closed tubes as well as a Helmholtz resonator are available. With the storage scope the shape of the resonance curve is retained so the entire curve can be viewed at once.
The horizontal axis of the scope is controlled by a low-frequency ramp from the first generator. That signal also controls the frequency of the second generator through its VCG input.
SUGGESTIONS:
REFERENCES: (PIRA unknown)
EQUIPMENT: Helmholtz resonator, open and closed tubes, loudspeaker with audio oscillator, sound probe, two oscillators, and storage oscilloscope.
SETUP TIME: 20 min.
---