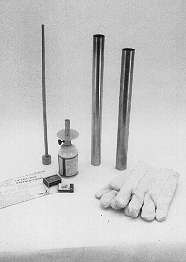 H3-16: SINGING PIPES
PURPOSE: To show sound resonance created by convection currents in a tube.
DESCRIPTION: A gas flame is inserted into one end of the tube, heating the wire mesh which has been pre-positioned in the lower half of the tube using the plunger. Holding the tube vertical after the mesh has been heated red hot creates convection currents which enable the tube to resonate. Tilting the tube nearly horizontal limits the convection currents and the sound ceases.
SUGGESTIONS:
REFERENCES: (PIRA 3D30.70)
EQUIPMENT: Two pipes with wire mesh, plunger, burner and matches, gloves, and instruction sheet.
SETUP TIME: None.
---