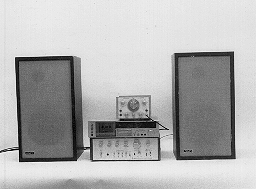 H1-32: WAVETEK AND AUDIO CART - EQUAL SOUND LEVEL STEPS
PURPOSE: To illustrate the effect on the ear of successive changes of exactly 10 dB.
DESCRIPTION: Setting the generator to a sine wave in the 100-1000 Hz region, the intensity can be changed up and down by 10 dB steps, covering about a 50dB range. Be careful not to exceed the maximum of either the loudspeakers or your ears.
SUGGESTIONS:
REFERENCES: (PIRA 3C30.00)
EQUIPMENT: Audiocart with wave generator.
SETUP TIME: None.
---