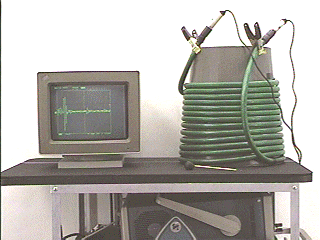 H1-26: SPEED OF SOUND IN GARDEN HOSE
PURPOSE: Direct measurement of the speed of sound in air.
DESCRIPTION: Two microphones at the ends of a section of garden hose are connected together electrically with their output fed into an oscilloscope. Tapping one of the microphones with a small hammer produces the pulse at the left in the photograph above; the second pulse is that tap after traveling through the air to the other microphone. The length of the hose is about 14.4 m, and the time interval measured from the scope trace is about 40 ms.
SUGGESTIONS:
REFERENCES: (PIRA unavailable.)
EQUIPMENT: Oscilloscope, hose with attached microphones, small hammer with putty end.
SETUP TIME: 10 min.
---