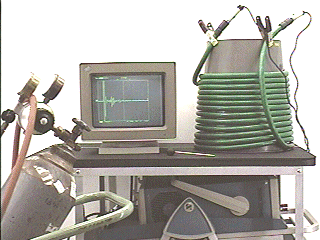 H1-24: SPEED OF SOUND IN HELIUM
PURPOSE: To determine the speed of sound as a function of gas density.
DESCRIPTION: Two microphones at the ends of a section of garden hose are connected together electrically with their output fed into an oscilloscope. Tapping one of the microphones with a small hammer produces the pulse at the left in the photograph above; the second pulse is that tap after traveling through the air to the other microphone. The length of the hose is about 14.4 m. Approximate values for the speed of sound obtained using this apparatus are: 340 m/s for air, 900 m/s for helium.
SUGGESTIONS:
REFERENCES: (PIRA unavailable.)
EQUIPMENT: Oscilloscope, hose with attached microphones, small hammer with putty end, and helium tank.
SETUP TIME: 10 min.
---