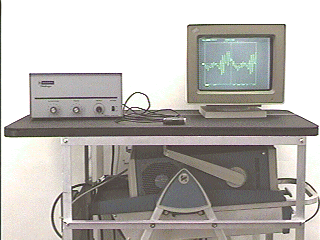 H1-11: MICROPHONE AND OSCILLOSCOPE
PURPOSE: To show the wave shape of various sounds.
DESCRIPTION: This setup can be used to look at the wave shape of the speaking voice, singing, whistling, playing musical instruments, musical synthesizers, oscillators with speakers, etc. The oscilloscope trace shown is that of a male voice singing the vowel "ee" with a frequency of about 160 Hz.
SUGGESTIONS:
REFERENCES: (PIRA 3C55.70)
EQUIPMENT: Microphone and oscilloscope (shown here with TV display).
SETUP TIME: 5 min.
---