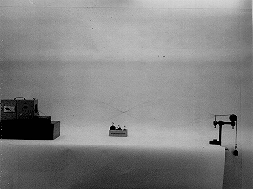 G3-51: ROPE WAVE GENERATOR - FREQUENCY VS WAVELENGTH
PURPOSE: To show the relationship between the frequency and the wavelength in a rope stretched with fixed tension.
DESCRIPTION: Keeping the tension in the rope fixed (same weight on hook) and raising the frequency creates standing waves with shorter wavelength (more loops).
SUGGESTIONS:
REFERENCES: (PIRA 3B22.15)
EQUIPMENT: Mounted rope wave generator with weights.
SETUP TIME: None.
---