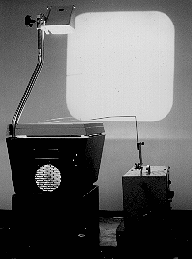 G3-46: STANDING WAVES IN A WIRE LOOP
PURPOSE: To illustrate circular standing waves; to use as a model of stationary states in atoms corresponding to standing waves of electrons in Bohr orbits.
DESCRIPTION: A wire loop attached to a mechanical vibrator is positioned above the platform of an overhead projector. Regulating the frequency of the motor produces different standing wave configurations of the wire loop.
SUGGESTIONS:
REFERENCES: (PIRA unavailable.)
EQUIPMENT: Vibration motor on foam pad, wire loop and overhead projector.
SETUP TIME: None.
---