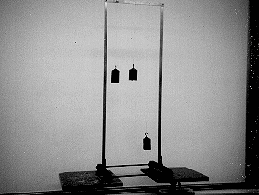 G2-28: COUPLED PENDULA WITH VARIABLE DRIVER
PURPOSE: To show that the maximum coupling occurs between pendula of the same length.
DESCRIPTION: Adjust the length of the driver pendulum, on the left, so that it will couple to either of the other two. Coupling occurs through movement in the frame.
SUGGESTIONS:
REFERENCES: (PIRA 3A70.20)
EQUIPMENT: Coupled pendulum apparatus with two fixed pendula and one adjustable pendulum, as photographed.
SETUP TIME: None.
---