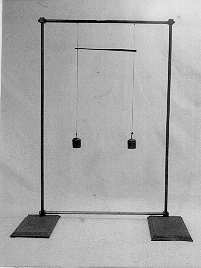 G2-22: BAR-COUPLED PENDULA
PURPOSE: To demonstrate a coupling resonance and to show normal modes.
DESCRIPTION: By starting either pendulum in motion in the plane of the picture, one observes transfer of the motion between the two pendula. One can also produce the two normal modes: both pendula moving in phase, or the pendula moving out of phase.
SUGGESTIONS:
REFERENCES: (PIRA unavailable.)
EQUIPMENT: Bar coupled pendula, as pictured.
SETUP TIME: None.
---