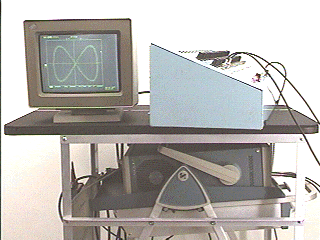 G1-73: LISSAJOUS FIGURES - FOURIER SYNTHESIZER
PURPOSE: To show stable Lissajous figures.
DESCRIPTION: Various harmonics from the Fourier synthesizer are input into the horizontal and vertical inputs of an oscilloscope, creating Lissajous figures. Any ratio of harmonic numbers can be used (including two first harmonics) with their phases and amplitudes independently adjustable.
SUGGESTIONS:
REFERENCES: (PIRA 3A80.20)
EQUIPMENT: Fourier synthesizer, oscilloscope with two L plug-ins and TV setup.
SETUP TIME: 5 min.
---