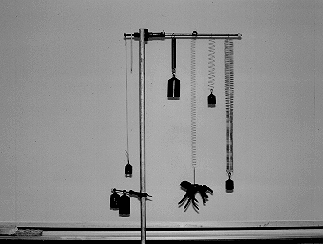 G1-33: MASSES AND SPRINGS WITH SPIDER
PURPOSE: To observe SHM and to compare frequencies for various mass-spring combinations.
DESCRIPTION: Hang various masses on various springs and observe the oscillations. The energy loss is greater for a rubber band then for a standard spring.
SUGGESTIONS:
REFERENCES: (PIRA unavailable.)
EQUIPMENT: Masses and spider with springs, on stand.
SETUP TIME: None.
---