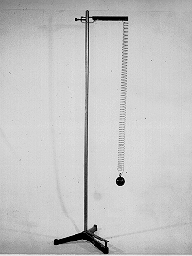 G1-32: MASS ON SPRING - WITH STAND
PURPOSE: To illustrate SHM.
DESCRIPTION: Mass moves up and down on spring with top end fixed to stand.
SUGGESTIONS:
REFERENCES: (PIRA 3A20.10) See Demonstration Reference File for several articles applicable to oscillating spring-mass systems, corrections for the mass of the spring, etc.
EQUIPMENT: Mounted mass on spring.
SETUP TIME: None.
---