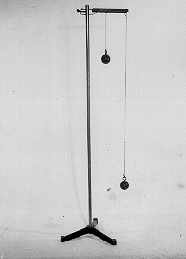 G1-15: PENDULA WITH 4 TO 1 LENGTH RATIO
PURPOSE: To show that the period of a pendulum is proportional to the square root of its length.
DESCRIPTION: The two pendula are started in phase. The shorter pendulum undergoes two complete oscillations for each oscillation of the longer pendulum.
SUGGESTIONS:
REFERENCES: (PIRA 3A10.14)
EQUIPMENT: Pre-assembled 4:1 length pendula.
SETUP TIME: None.
---