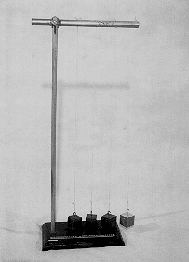 G1-14: PENDULA WITH DIFFERENT MASSES
PURPOSE: To demonstrate the independence of the period of a pendulum from the mass of the bob.
DESCRIPTION: Four geometrically identical pendula have bobs made from lead, brass, stainless steel, and aluminum, respectively. Their periods are the same.
SUGGESTIONS:
REFERENCES: (PIRA 3A10.17)
EQUIPMENT: Pre-assembled set of four pendula.
SETUP TIME: None.
---