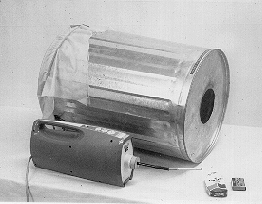 F4-42: SMOKE RINGS USING GARBAGE CAN
PURPOSE: To create large smoke rings and illustrate the circular vortex.
DESCRIPTION: Place a lit cigarette in the end of the rubber hose to suck smoke through the vacuum cleaner and fill the upside down garbage can with smoke. Two cigarettes fill the can with smoke very nicely, thank you. To create giant smoke rings, aim the can and tap the rubber membrane covering the lid opening.
SUGGESTIONS: Make smoke rings move up the spotlight beams in the lecture hall. They can be seen very well, and have enough energy to knock some of the dust and dirt off the shelves on the ceiling of the lecture hall.
Assure your students that this much smoking does not create a cancer hazard for the vacuum cleaner.
REFERENCES: (PIRA 2C50.10)
EQUIPMENT: Garbage can with hole, membrane with rubber hose tie-down, vacuum cleaner with smoking attachment, cigarettes and matches.
SETUP TIME: 5 min.
---