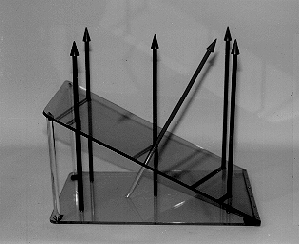 F4-13: FLUID FLOW MODEL
PURPOSE: For use as a model in developing equations for fluid flow.
DESCRIPTION: Flow of fluid onto surface Q is given by the equation
Q=d v dA cosa = d v dA(projection),
where d is the density of the fluid, v is the velocity of flow, A is the vector area of the surface, and a is the angle betwee n the surface and the flow.
SUGGESTIONS:
REFERENCES: (PIRA unavailable.)
EQUIPMENT: Model as photographed.
SETUP TIME: None.
---