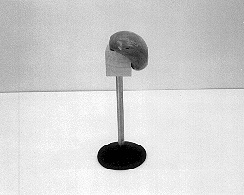 F4-04: SILLY PUTTY
PURPOSE: Demonstrate a non-Newtonian fluid.
DESCRIPTION: Set a gwob of silly putty on the stand. Slowly it "flows" over the edge. If it is formed into a ball it will bounce off the floor.
Silly putty is a non-Newtonian fluid: it's viscosity increases as it is subjected to greater pressure.
SUGGESTIONS:
REFERENCES: (PIRA unavailable.)
EQUIPMENT: Silly putty on stand.
SETUP TIME: None.
---