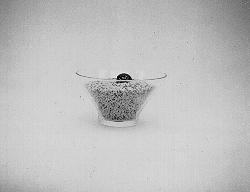 F2-31: BUOYANT BALLS IN BEANS
PURPOSE: To illustrate buoyancy in a surprising way.
DESCRIPTION: Begin with a heavy ball resting on dried beans in a bowl. Unbeknownst to the class, a ping pong ball has been placed under the surface of the beans. Shaking the bowl, the heavy ball sinks, while the ping pong ball rises to sit on the surface of the beans.
SUGGESTIONS:
REFERENCES: (PIRA 2C60.20) See Demonstration Reference File for arguments about this demonstration.
EQUIPMENT: Bowl of beans, heavy ball and ping pong ball.
SETUP TIME: None.
---