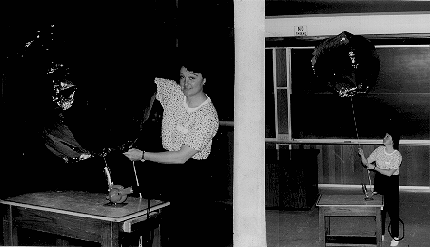 F2-12: HOT AIR BALLOON
PURPOSE: To show that hot air is less dense than cold air by operating a hot air balloon.
DESCRIPTION: A 15-ampere hot air gun is used to inflate a hot air balloon. The buoyant force becomes sufficient that the balloon will rise.
SUGGESTIONS:
REFERENCES: (PIRA unavailable.)
EQUIPMENT: Mylar balloon, 15-amp heat gun.
SETUP TIME: None.
---