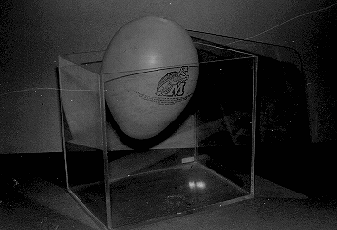 F2-09: BUOYANCY - BALLOON IN HEAVY GAS
PURPOSE: To make people think about buoyancy.
DESCRIPTION: Observe a balloon floating in a box with a lid. Obviously the balloon is filled with helium. Remove the lid. The balloon rises, but does not leave the box. Push the balloon to the bottom of the box, and it rises once again when released. Remove the balloon from the box and release it; it falls to the floor. Have your students explain this mysterious phenomenon.
SUGGESTIONS: After a while, diffusion of the sulfur hexafluoride reduces the effectiveness of this demonstration.
REFERENCES: (PIRA unavailable.)
EQUIPMENT: Air balloon, plastic box with sulfur hexafluoride, lid.
SETUP TIME: 5 min.
---