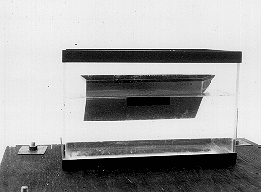 F2-06: BUOYANCY - SINKING BOAT
PURPOSE: To illustrate buoyancy in a perhaps counterinutuitive way.
DESCRIPTION: A heavy copper "boat" floats in a fish tank "pond." A cork is removed from a hole in the bottom of the boat, allowing the boat to fill with water and sink. Q: When the boat sinks, will the water level in the pond (a) go up, (b) go down, or (c) remain the same? A: As the boat sinks, the water level in the pond goes down.
SUGGESTIONS:
REFERENCES: (PIRA unavailable.)
EQUIPMENT: Fish tank with copper boat.
SETUP TIME: 5 min.
---