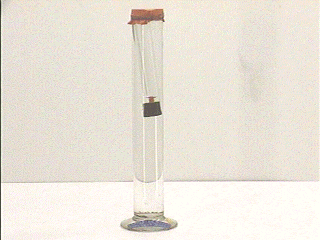 F2-03: CARTESIAN DIVER - EXPLICIT VERSION.
PURPOSE: To demonstrate explicitly how a cartesian diver works by showing how the water enters the diver when the pressure in the cylinder is increased.
DESCRIPTION: When no additional pressure (above normal atmospheric pressure) is applied to the bulb, the diver floats on the surface of the water. The location of the water surface inside the diver is indicated by the cork floating in the diver tube. When additional force is applied to the bulb, the pressure in the tube increases, forcing more water into the diver tube, as indicated by the cork. The diver sinks to the bottom. When the force is released, the diver again rises.
SUGGESTIONS:
REFERENCES: (PIRA 2B40.30) See references for F2-02.
EQUIPMENT: Cartesian diver setup as photographed.
SETUP TIME: None.
---